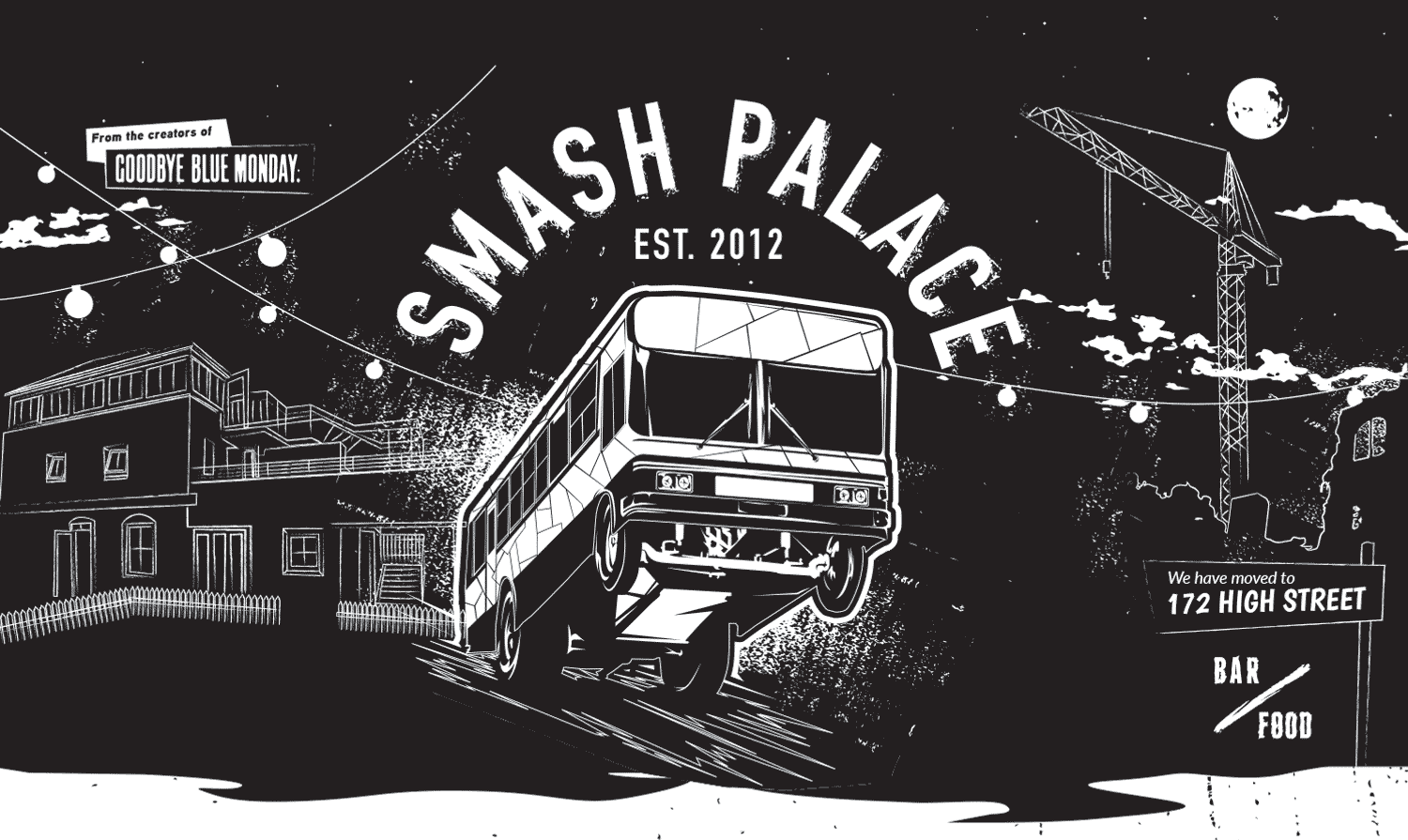 Smash Palace is a Bar
on High Street, Christchurch.
SMASH PALACE started when our old bar - GOODBYE BLUE MONDAY - fell down in the 2011 Christchurch earthquakes. SMASH PALACE was located on Victoria Street for a couple of years before moving to its current location on High Street.
Smash Palace is a family business and we are proud of the community we have created. The bar has become an important focal point in many local's lives. It's not just a place to drink beer (although it's great for that), it's a place to meet the local community and participate in the New Christchurch.
Come down and see what all the fuss is about.
Phone 03-3665369
172 High Street
Christchurch Central
Christchurch 8011
Hours
MONDAY TO THURSDAY
3PM - LATE
FRIDAY & SATURDAY
12PM - LATE
SUNDAY
12PM - 8PM
Closed all public holiday's
Our specialty house beer. Brewed locally to our exacting recipe by expert brewers and trucked in fresh each week. We love the stuff and drink far too much of it ourselves.
Golden Ale $9
We change these out more than the rear rubber on the old Cortina $9–$12
We have an interesting range of bottled and canned brews, there's a good sampling of stuff from around NZ in the chiller.
Craft 330ml $10
Craft 500ml $15
Speights Big Bots. $12
Heineken $9
SOL $9
Guinness Cans $12
Somersby Cider $9
All the wines are from Waipara. All are from family owned and run vineyards. We like to support small business.
Boneline Sauvignon Blanc $9
Black Estate young vines Chardonnay $12
Boneline Riesling $10
Black Estate Pinot Gris $11
George's Rd Rose $10
Boneline Pinot Noir $12
Main Divide Cabernet Merlot $9
George's Rd. Syrah $12
Coke, Sprite, Ginger Ale,
L&P, Coke Zero $4
Simply Squeezed
Juice Range $5
Bottled by the Sun
orange, mango and apple $7
Bottled by the Sun
feijoa and apple $7
Pete's Natural
Lime-o-Nade $7
Pete's Natural
Currant Crush $7
Most Sparkling Apple $7
Schweppes Ginger Beer $6
Allganics Iced Tea $7
Filter Coffee $3
Wild Flower Botanical
Tea Range $4
SMASHIES MERCH
Get your hands on some sweet merch to lift your steez factor and represent us with pride!
Click on the images to find out more info/purchase.
CONTACT
Due to being at the mercy of the weather we don't take reservations. But there's heaps of space - just show up and we will do our best to fit you in.
ADDRESS
Find us at: 172 High Street, Christchurch. New Zealand
CONTACT FORM